REAL MADRID CLUB DE FÚTBOL
 is a multi-sport entity headquartered in Madrid, Spain. Was officially founded on the 6th of March 1902 by the brothers Juan Padrós and Carlos Padrós, under the name (Sociedad) Madrid Football Club.
Real Madrid C. F. participates in Spain's First Division, the Nation's top flight professional (Association) Football League (La Liga Nacional de Fútbol Profesional), since it's founding in 1929. One of only three teams to have always competed, never being relegated – with Athletic Club and F.C. Barcelona. Real Madrid C.F. holds the honor of being the first historic leader of the competition, the holder of the most League titles – 32, and having earned the most points in one season, with 100 (2011/2012).

---
---
 REAL MADRID CLUB DE FÚTBOL
has constantly
contributed to football's progress at every
opportunity, 
being 
creators, founding members
and co-founders of various
competitions 
and
football associations like the extinct Spanish Cup
or
Championship of Spain, the European Cup, the
Intercontinental Cup,
and FIFA.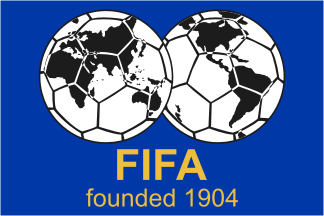 ---
REAL MADRID CLUB DE FÚTBOL 
is one of the most renowned
and 
honored entities on earth,
being awarded 
National and International Football honors
–
named by FIFA (Fédération International de
Football
Associations), as "The Best Club of the 20th Century,"
in December 2000. Named "The Best European Football Club
of the 20th Century," 
by the 
IFFHS (International Federation
of
Football 
History 
& Statistics), and the most
titled institution 
in World 
Basketball. In both sports,
a total of 
17 
European
Cups, the highest competition
for Clubs 
in the "old" continent,
and 7 World
Championships, 
more than any other European
Club 
in 
either sport.
FLORENTINO PERÉZ, SEPP BLATTER, ALFREDO DI STÉFANO 
FIFA'S BEST CLUB OF THE 20th CENTURY !
---
 Identifiable by it's color White (Blanco), the Club has more than 93,000 member/socios, and the Santiago Bernabéu Stadium is it's home ground. The Bernabéu has a capacity of 85,454 seated spectators, third highest capacity in Europe. Counting a capacity of 120,000 spectators before conforming to UEFA (European Union of Football Associations) regulations.
---
One of the most popular Clubs in the country (Spain) and of the World. It's one of the most highly valued sports entities in the market, one of the highest annual earning, and the richest Club in the World, topping Deloitte's football rich often, this year's (May/2016) KPMG Club Enterprise list (methodology using 5 specific characteristics: profitability, popularity, stadium ownership, broadcasting rights, and sporting potential), within a range from 2.8 million to 2.99 billion Euros (Manchester United 2nd, and Barcelona 3rd). Real Madrid C.F. was the first football club ever to make more than 500 million Euros per season, obtaining that in 2011-12, at an estimated 514 million. Highest amount ever reached by a sports entity until then. Forbes rates Real Madrid the most valuable football team for the fourth year in a row, ahead of Barcelona and Manchester United, with a value of $3.645 Billion (2.52 billion Pounds Sterling), and annual revenue now at $694 million (480 million Pounds Sterling).
---
Los Blancos: desribes the club's all white kit. It is one of the most iconic in world football. Los Merengues: similar to los blancos, it describes a Spanish dessert, usually white, made from whipped egg-whites and sugar, and served amongst the elites. Los Vikingos: when the transfer ban was lifted in the early 1970′s Real Madrid imported a healthy amount of Northern Europeans, therefore they got the appellation of Vikings. It also refers to their rapacious appetite for titles. Los Galacticos: describes their penchant for signing the biggest stars in the galaxy.
---


Through their non-profit Foundation, REAL MADRID CLUB DE FÚTBOL carries it's brand and Club philosophy to different regions of the World, conducting important social work and cooperating for international development.